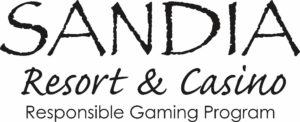 March 26 & 27, 2020Â 
Gambling Addiction Conference: New Mexico's Premier Gambling Addiction Conference for Mental Health Professionals.
In Partnership with National Center for Responsible Gaming (NCRG).
SANDIA CASINO SUPPORTS RESPONSIBLE GAMING
At Sandia Resort & Casino we want all of our customers to enjoy casino gaming as a planned and budgeted entertainment option. We recognize though, that a small percentage of people may have problems gambling responsibly. Sandia Resort & Casino cares about its customers, and is committed to helping those in need of compulsive gambling treatment; Our Responsible Gaming Program helps.
Responsible Gaming refers to practices designed to prevent and reduce potential harms associated with gambling, and more specifically compulsive gambling.
Gambling should not interfere with your everyday life
Keeping your gambling under control by setting a dollar limit and time limit
Become educated on the warning signs and ask for help, if you feel you need it
Compulsive Gambling is defined as a continuous or periodic loss of control over gambling. Problem Gambling is any gambling behavior that disrupts or damages your life.