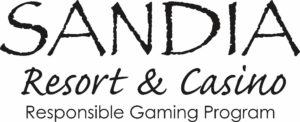 Addressing The Impacts of Gambling Disorder & Addiction: 2 Day Conference: March 21 & 22, 2019
For More Details Click Link Below or Call: Rosa Juarez for more information: (505) 798-7415
---
Sandia Casino Supports Responsible Gaming
At Sandia Resort & Casino we want all of our customers to enjoy casino gaming as a planned and budgeted entertainment option. We recognize though, that a small percentage of people may have problems gambling responsibly. Sandia Resort & Casino cares about its customers, and is committed to helping those in need of compulsive gambling treatment; Our Responsible Gaming Program helps.
Responsible Gaming refers to practices designed to prevent and reduce potential harms associated with gambling, and more specifically compulsive gambling.
Gambling should not interfere with your everyday life
Keeping your gambling under control by setting a dollar limit and time limit
Become educated on the warning signs and ask for help, if you feel you need it
Compulsive Gambling is defined as a continuous or periodic loss of control over gambling. Problem Gambling is any gambling behavior that disrupts or damages your life.
---
Warning Signs:
Preoccupied with gambling – planning next venture
Increased Tolerance – the need to gamble with increased amounts
Lying – Lies to family members or others to conceal the extent of his/her gambling
Bailout – relies on others to provide money due to losing own money on some form of gambling
Loss of control – unable to stop gambling
You may have a gambling problem if you:
Feel the need to be secretive about your gambling. You might gamble in secret or lie about how much you gamble, feeling others won't understand.
Have trouble controlling your gambling. Once you start gambling, can you walk away? Or are you compelled to gamble until you've spent your last dollar, upping your bets in a bid to win lost money back?
Gamble even when you don't have the money. A red flag is when you are getting more and more desperate to recoup your losses. You may gamble until you've spent your last dollar, and then move on to money you don't have.
---
Resources
Treatment for problem gambling
The biggest step in treatment is realizing you have a problem with gambling. It takes tremendous strength and courage to own up to this. Don't despair, and don't try to go it alone, we are here to help. Overcoming compulsive gambling is never easy. But recovery and control is possible with treatment. When you are ready, for advice or looking for treatment information, Please contact one of the following:
At Sandia Resort & Casino we offer the Self-Exclusion Program. This procedure offers customers to self-exclude from any form of gambling at Sandia Resort & Casino. It is required for customers to contact the Security Department or the Responsible Gaming Coordinator for more information and to fill out required forms.
---
Responsible Gaming Coordinator
(505)-798-7415
24 Hour New Mexico Problem Gambling Helpline
1-800-572-1142
Responsible Gaming Department
505-798-7415